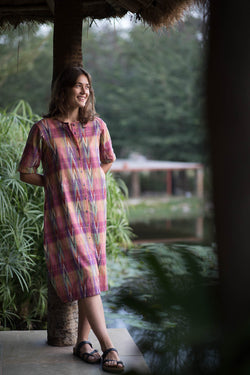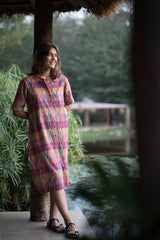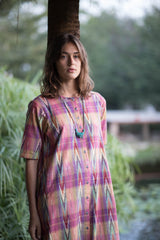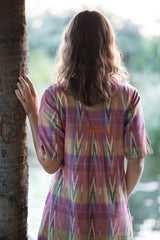 Multi Checks Open Long Jacket
IKAT | HANDCRAFTED | COTTON | AZO-FREE DYES | VERSATILE | EVERYDAY-WEAR
Breathable and elegant, This round neck open long jacket in Cotton has fine Ikat patterns handcrafted by artisans of pochampally.  The checks overlay adds charm and brightens the shade making it the perfect companion for a sunny afternoon or a long day out. 
When it comes to colors, the soul of the world roars up with rejoice that echoes at every nook and corner, especially in the cultural country of India. India is defined by its ethnic festivals which spread the essence of bonding throughout the globe.

Resonating the beauty and mystique behind the festival of Holi, this is the reintroduction of our most admired "SOIL" collection which showcases the story of vivid summery hues with gorgeous patterns and playful vibes. Soil collection is a pursuit to create pieces that reflect the various characters, textures, colors, and grains of the earth. Giving the simple silhouette a new freshness, we revisit our classic style with basic shift dresses, straight cut kurtas, and open long jackets. Adding to the ensembles are palazzos and culottes in bright solid colors complimenting the rest of the collection.
WASH & CARE:
All the products created by Translate are handwoven and handcrafted. Hence, subtle variations in color, texture, and finish are the signature of the human hand. 
Wash separately in Coldwater
Machine wash on gentle cycle
Hang dry in shade
Low heat iron
Don't use bleach
General Caution
Never wash whites with colored clothes.
Please don't dry colored clothes under direct sun
Don't use harsh detergents. Mild liquid detergents are advisable.
Red's may require being washed separately the first few washes.
For assistance please contact us at enquire@ikatindia.com or +91 8886 000 562
Dress/Kurta/Top
DESCRIPTION
XS
S
M
L
INCHES
CMS
INCHES
CMS
INCHES
CMS
INCHES
CMS
Bust - Sleeveless Garment
35
89
38
96.5
41
104.2
44
111.7
Bust - Sleeve Garment
37
94
40
101.6
43
109.2
46
116.8
Shoulder
15
38
15.5
39.5
16
40.6
16.5
42
Elbow Sleeves Length
12
30.5
12
30.5
14
35.5
14
35.5
3/4 Sleeves Length
17
43.2
17
43.2
19
48.3
19
48.3
Full Sleeves Length
24
61
24
61
25.5
65
25.5
64.8
Top Length
28 - 30
71.2 - 76.2
30 - 32
76.2 - 81.3
32 - 35.5
81.3 - 90.2
35.5
90.2
Tunic Length
30 - 32
76.2 - 81.3
30 - 32.5
76.2 - 82.5
32.5 - 35
81.3 - 90.2
32.5 - 35
81.3 - 90.2
Kurta Length
45
114.3
45
114.3
48
112
48
112
Short Dress Length
42
106.7
42
106.7
44
111.7
44
111.7
Full Dress Length
44 - 45
112 - 114
44 - 45
112 - 114
47 - 48
119 - 123
47 - 48
119 - 123
BOTTOMS
DESCRIPTION
XS
S
M
L
INCHES
CMS
INCHES
CMS
INCHES
CMS
INCHES
CMS
Waist
-
-
36
91.44
40
101.6
42
106.68
Pant Length
-
-
33 - 35
83 - 88.9
34.5 - 36.5
87.7 - 92.7
36 - 38
91.4 - 96.5
All our products are 100% Authentic and Genuine, using the most premium ikat fabrics, stitched to perfection.

We Ship using only the most premium carriers like Bluedart, FedEx & Delhivery for domestic. And Aramex or DHL for International shipments. We take pride in making sure the packages reach you in perfectly sound condition.

We offer FREE SHIPPING on all prepaid orders anywhere in India.

Cash on Delivery is available for more than 15,000 pin codes across India. You can avail COD facilities for a minimum charge, which will be mentioned to you during checkout.
Delivery methods, times and cost
| | | | |
| --- | --- | --- | --- |
| Shipping Destination | Shipping Service |  Dispatch times | Cost |
| Within India | Domestic shipping companies. | 5-7 business days | For all domestic orders, shipping charge of Rs. 100/- is applied. |
| International | DHL | 6-8 business days | A single flat rate of Rs.1500/- is applied for all international orders. |
OUR JOURNEY 
Translate-Handwoven Ikat, launched in 2012 is a concept apparel and home textile label in India with the primary focus in reviving the age-old art of Ikat by honouring the artisan's know-how.We aim in transforming the traditional handcrafted textile to comfortable timeless clothing and lifestyle. 
MISSION 
Translate commits in giving new lease of life to Ikat craft technique by empowering and providing consistent employment to the sixth generation artisanal communities.We are dedicated in setting up the path of revival and resurgence of the glorious Ikat textile.  
VISION 
Translate is proud to play a part in creating awareness for India's rich heritage in handcrafted textiles.We celebrate the craft of Ikat by sustaining the exquisite beauty it inherits through modern reinterpretation of heritage.Our premise that "hands are the value addition". the materials are passed through several hands to create works that are unique. 
CORE TEAM  
Translate is a brainchild of like minded people.Co-founded by entrepreneur duo Mrs.Vinita & Mr.Vickas Passary & textile revivalist Mr.Chandrasekhar.The thread that weaves them together is the shared love and passion for handwoven textiles art and culture.
DESIGN STUDIO 
Our design studio is equipped with skilled artisans, weavers, stream-stress, designers and many more hands involved in the making of Translate-Handwoven Ikat. The authenticity of Translate is bringing this craft to a large audience through our textiles, clothing and lifestyle. 
Our design stories are filled with inspirations.Curating age-old textiles, studying the intangible human heritage and bringing out the best from each of the hand involved at our design studio. 
As an extension of our belief in value addition, we are an almost zero wastage unit. 
 IMPACT 
Translate is not merely a fashion label, but a spirit which embodies to accelerate change.Our continuous and sustained effort to work with the indigenous craft of Ikat weaves, ensuring the craft is kept alive and authentic at its origin. 
Effortless styling is the brand identity, the clothing line highlights the versatility, functionality in its relaxed silhouettes. Lifestyle product emphasises a quality of timelessness. 
                               We believe in conscious consumerism. 
Love it ❤️
This is an extremely elegant dress that I would love to wear for a very long time in the years to come! Precisely something that can never go out of fashion 🤩
The best dress I have worn so far!
Super piece.
That's my favourite one besides the polka in pink and white. The color is beautiful and so is the fabric regardless of the cut and stitch, the piece is to die for.
Multi Checks Open Long Jacket